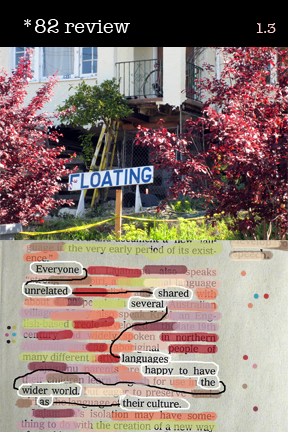 Issue 1.3
Contents
Shorts
Waiting for Warhol
Margarita Meklina. A story of memory, longing, and empty autographs.
Instructions for Becoming a Book Artist
Nikki Thompson. Humorous essay about the complications of explaining oneself.
Yahtzee
Erica Lemley. Chronology of a family game and loss.
Survivor's Guilt
MM Wittle. A woman comes to terms with life and friendship.
Opening Day
John Palen. A boy considers morality and contrasting fathers on a fishing trip.
minnowfish
Christine Tierney. A mother and daughter perceive a memory differently.
The Poet in New York
Miriam Sagan. Coming of age as a poet in New York.
Reading Young Avengers
Eric Tran. A gay man longs for love like that of his favorite superhero.
Colors in the Sky
Mira Desai. A newly divorced woman refocuses on her passion for photography.
The Minstrel's Song
Mira Desai. An older man makes a difficult decision about moving to India.
Muzak Serenade
Aleithia Burgess. A shopping trip down memory lane.
Postcard Lit
Clouds
Richard Olsen. A mysterious leak.
After the Cabaret
Susan Rukeyser. A rustle of a skirt of leaves.
Art Post
Coimbra
V.A. Smith. A solitary moment in Portugal.
Mary
Nicola Lane. A peek at two lives.
Candela
Luz Marina Ruiz. A luminous tunnel book made of paper.
Live Nobly
Belinda Chlouber. A pair drawn, a scene collaged from handwriting.
Son of a Financier
Shelton Walsmith. Painted, altered, and collaged.
Stray Utterance
Jaime Robles. Leaves with words on a wall.
Erasure Text
Topped
Holly Simonsen. Poem created from a page from
This Was Logging!
Hidden Gems
Edge
Maxine Chernoff. Perceiving time and connections.
Stereos
Daniel Aristi. Imagination of lost youth.
Plato's Cave
Clinton Inman. Denied, accepted, or actively challenged.
Lost Dreams
Desirée Jung. Language and identity. The mirror of "Sonhos Perdidos."
Sonhos Perdidos
Desirée Jung. Identity and language. The mirror of "Lost Dreams."
I blew you a kiss
Bekah Steimel. Journey of a kiss.
One-Eyed Jack
Charles Thielman. Crow or game?
After the Storm
Charles Thielman. A moment between.
Bloom
Charles Thielman. Sudden brightness.
Morning News
Alastair Johnston. An atmosphere of contrasts.
A Brief History of Animation
Glen Armstrong. Little mannequins, personalized.
Talk Therapy
Howie Good. Surreal events and a woodchuck.
In Order
Sharyl Collin. A special father.
Cheers (Desvenlafaxine)
Nick D'Annunzio Jones. Subjective existence.
Old Reporter
Nick D'Annunzio Jones. Aging out of a century.
Passing Moments
Jaime Robles. The landscape of loss.
©2013 never mind the press and the authors and artists