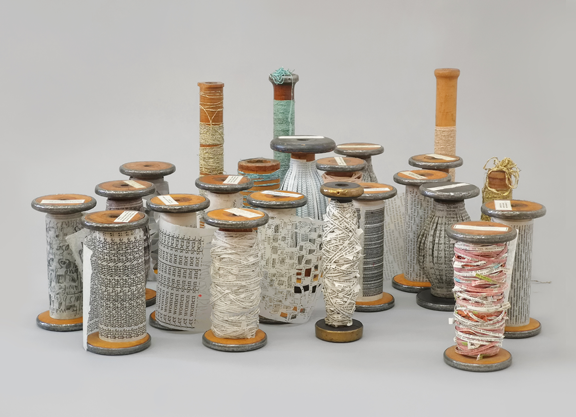 Text-iles, Proverbial Threads & 3 Staffs
Countless proverbs from around the world encapsulate cultures' perspectives on the role of women and their labors. These proverbs are misogynistic, regardless of their origin. In these series, I used them as "threads," emblematic of rote repetition, a concept that applies to the passing down of outmoded proverbs as well as notions of "women's work."
Series of unique book objects. Printing & writing on Dobbin Mill papers, wood & metal bobbins; 2007-2009
Photographed by Dorka Hubner
Robbin Ami Silverberg
's artwork is divided between artist books and site-specific installations. She is the founding director of Dobbin Mill, a hand-papermaking studio, and Dobbin Books, whose 30th year is being celebrated by her retrospective, "Read Me. Like a Book." Paper has consistently been her preferred material, and she has explored its potential as a non-neutral substrate in her image-making, bookmaking, and process. Her publications may be found in over 130 public collections. Silverberg is a professor for "Art of the Book" at Pratt Institute, Brooklyn.
www.robbinamisilverberg.com
See more of Robbin's work in
8.3
and
8.3 again