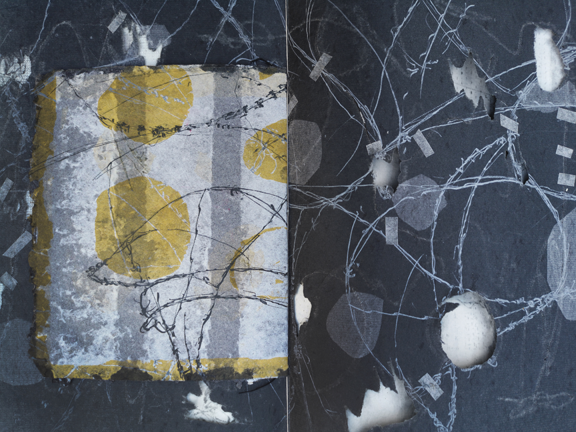 Walls of Kakistopia
Kakistopia is a state in which the worst possible conditions exist in government and society. We combined our artistic styles via print and paper, re-interpreting present-day visual landscapes of fences, walls, barriers of all sorts. Its double pamphlet, French-door structure allows for a myriad of presentations and enhances this non-linear exploration of our corrupt states.
In collaboration with Kim Berman, 2019
Varied edition of 8; Drypoint & monoprint, collage & drawing on embedded & pulp painted Dobbin Mill papers; Etched metal slipcase
Photographed by Dorka Hubner
Robbin Ami Silverberg
's artwork is divided between artist books and site-specific installations. She is the founding director of Dobbin Mill, a hand-papermaking studio, and Dobbin Books, whose 30th year is being celebrated by her retrospective, "Read Me. Like a Book". Paper has consistently been her preferred material, and she has explored its potential as a non-neutral substrate in her image-making, bookmaking, and process. Her publications may be found in over 130 public collections. Silverberg is a professor for "Art of the Book" at Pratt Institute, Brooklyn.
www.robbinamisilverberg.com
See more of Robbin's work in
8.3
and
8.3 again