Soundscape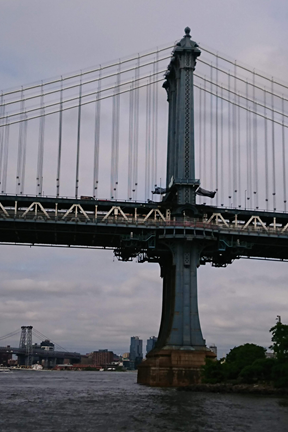 This time last year I had a fantastic getaway in Manhattan, but one thing that unsettled me was the overpowering volume of sound. My city (Australia's Sydney) is home to five million people, but noise-wise compared to NYC seems village-like.
I realized that the main culprit was car horns, that is miffed drivers with no qualms or guilt about noise blasting hundreds of innocent people – call them collateral victims – in the vicinity. Intrigued, I delved a little and found that honking is actually illegal – aside from the need to warn of impending danger – and is subject to a hefty fine. Once upon a time, signs actually hinted at this. The fine, however, for reasons unknown to me, is rarely enforced.
During my stay, I found just one consistently searing din worse than car horns – that generated by trains crossing the Williamsburg Bridge, hundreds of tons of metal surging over the wooden struts. The sound intensified as I skirted the bay towards Berl's Poetry Shop in Brooklyn. The scene was kind on the eye, but cruel on the ear. Every three or four minutes, a mighty roaring assailed me. I considered the people who work there every day. Are they accustomed? Or do they need a reprieve, a getaway?
James Gering
's poetry and fiction have appeared in many literary journals including
Rattle, San Pedro River Review
and 
Rockvale Review.
 He teaches English at the University of Sydney in Australia. Away from work he revels in nature – climbing, canyoning and running trails in the pristine Blue Mountains. He welcomes visitors at his website,
www.jamesgering.com
See more of his work in
8.3
and
8.3 again