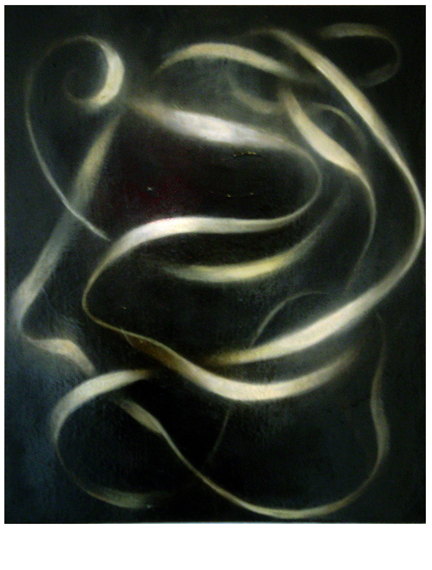 Film School
("When I Consider How My Light Was Spent #2")
Consider how a spotlight creates more darkness at the perimeter.
The film-school student I loved framed me in light, then
Fixed that spent light on filmstrip he later unspooled from a film can.
I launched my mini-career as a student-film actress when I looped
that filmstrip & wore it as a necklace to my first & last movie premiere.
This painting looks like a still from that film. Oh my young master!—
Hitchcocky, aspiring director lighting an actressy face for me,
one where nose kissed cheek-bone in a pubic triangle of shadow.
(That heterosexual gesture: "Rembrandt lighting" as sexual style.)
When I consider this still as a picture of my insides (leached of color),
I consider the obscure Claire I was, in that moody chiaroscuro. She,
well I, had this in the can. I was all potential, but in a black hole.
That's the Miltonic plot: the white-on-black knot in black-and-white thought.
(The hitch was that my director couldn't love me off-camera,
or when I departed from the script.) My soul-mate control-freak!
This painted, ribbony filmstrip is twisted calligraphy from which
the brush never lifted. It's the looping guts in which good film hits you.
Now, when I consider myself, it's as done with such scenes—& how.
Poem
Coco Owen
is a stay-at-home poet in Los Angeles. She has published in the
Antioch Review, 1913: A Journal of Forms, The Journal, Rio Grande Review
, and forthcoming in
Cutbank
. She also has a mini-chapbook with Binge Press. Owen is on Les Figues Press's board of directors and has a Ph.D. in clinical psychology. More of her work can be found at:
www.cocoowenphd.com
Painting
Shane Guffogg
lives in Los Angeles and received his BFA from Cal Arts. Guffogg's work is noted for the use of glazes in the tradition of the old masters, while the subject matter of his work is abstraction. Guffogg founded Pharmaka, a non-profit gallery, in L.A., and was instrumental in starting the downtown Art Walk. He had a mid-career retrospective in Naples, Italy, in 2012 and has been in over 100 exhibitions in the U.S. and abroad.