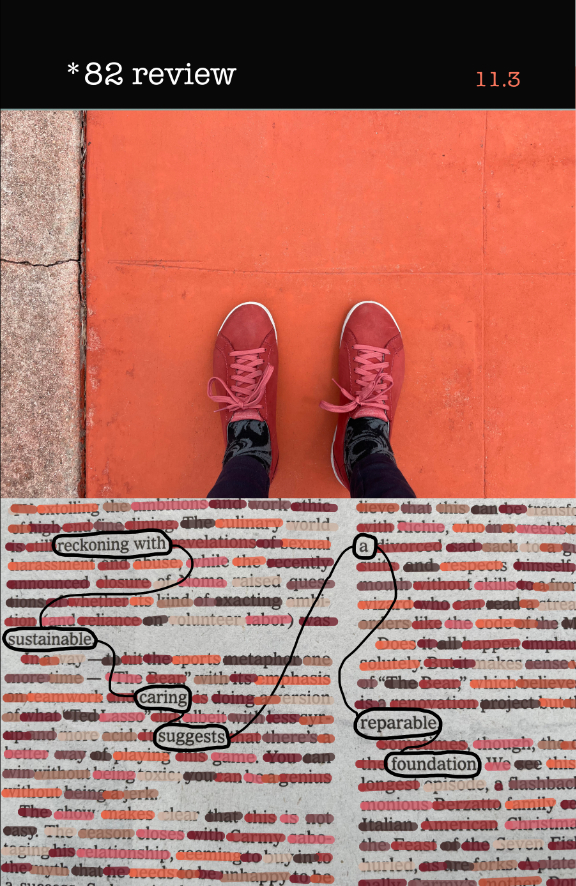 Issue 11.3
Contents
To read the magazine in the mixed genre, sequential print order, start
here.
Shorts
Toast
Desiree Kannel. Pleasures that could be taken for granted.
The Solar Eclipse
Lori Magnuson. A journey and a change.
Robotic Bees Don't Say Ope
Kasey Butcher Santana. Musings on bees.
After the Divorce
Ashley Kim. Impact on a young girl.
Proof
Sarah Koskoff. Of being alive.
Lightwaiting
[sarah] Cavar. Miracle of the postperson.
Us
Rosie Li. Reading into.
Love Notes
Judith Lysaker. Tenderness through music.
Eugene Buddle-Lubbers
Angela Townsend. Joy in made-up names.
Coffee, Crows, and Beer
Russ Fee. Who teaches whom.
Art
Piece 4
Alice Wilson. Black and white drawing.
Into Fields
Alicia Salvanos. Color photograph.
Volcanic Springs, Patagonia
Roger Camp. Photograph.
Savannah
Alex Stolis. Photograph.
Wood Stove
Cheryl/David Summerfield. Black and white photograph.
Mist
Cheryl/David Summerfield. Color photograph.
Driftwood Beach
Alex Stolis. Black and white photograph.
Hidden Gems
Lunch on the Porch
Martha Christina. Unplanned company.
For Shame
Heikki Huotari. Continuing on a path.
Daily Listing
BEE LB. Taking stock.
Tipping Point
RL Black. With a cat.
Mostar Host
Michelle Matthees. Compared to what.
The Cemetery Under the Bed
Mykyta Ryzhykh. Survival.
Additionary
Daryl Scroggins. More definitions.
We're Going to Be Friends
Andrew Su. Poetic chronicle of a relationship.
Overhearing
Martha Christina. Wrong reading.
At Larry Hill's House by the Ocean
William Ross. Fond memory.
Gems
Preeth Ganapathy. Beautiful moment.
Word + Image
El Paso Texas 24 Diciembre de 1927
Marcy Rae Henry. Found poem "transparencies" from a great-great-grandmother's letter, in three languages.
Erasure/Collage Poem
Hope
Amy Marques. Source:
Immortal Poems of the English Language
There Is No Time
Daniel Lehan. Sources:
On the Scent - Big Books for Little People
and
Gulliver's Travels
©2023 never mind the press and the authors and artists
order a printed copy here